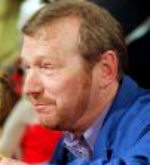 Matthew Corbett. Photo:
manchestereveningnews.co.uk
A new series of the TV programme "Locks and Quays" starts on Thursday 3rd January, on ITV Granada in the North West. It is due to be shown on ITV in the Yorkshire region at a later date.
This is the third series of ten programmes and this time the series is presented by canal enthusiast, actor and former keeper of "Sooty", Matthew Corbett.
Matthew will be taking a coast-to-coast journey from the North Sea to the Irish Sea, via the Leeds and Liverpool Canal, with inserts of visits to other locations. The first lap of the journey is along the Humber and into the port town of Goole, heading to the start of the Aire and Calder Navigation.
Briefly, the remaining programmes will feature:
• Programme 2 - Aire and Calder, Wakefield, Leeds, Ellesmere Port
• Programme 3 - Leeds and Liverpool, Kirkstall, Saltaire
• Programme 4 - Leeds and Liverpool, Bingley Five Rise
• Programme 5 - Leeds and Liverpool, Skipton, Worsley
• Programme 6 - Leeds and Liverpool, Foulridge, Burnley Embankment and Weavers' Triangle
• Programme 7 - Leeds and Liverpool, Blackburn
• Programme 8 - Leeds and Liverpool, Johnsons Hillock and Wigan Lock flights, Bradford Canal
• Programme 9 - Leeds and Liverpool, Appley Bridge, Parbold, Rufford, Burscough, Stanley Ferry Workshop
• Programme 10 - Leeds and Liverpool, Liverpool Canal Link, River Mersey
The programmes are broadcast on ITV in the Granada area at 7.30 pm on Thursdays (dates for Yorkshire not yet known). They can also be seen by people outside the area on Sky (see below).
The previous series of Locks and Quays can currently be watched online on ITV Local
www.itvlocal.com/granada/documentaries/
I don't know when Series 3 will be available to watch online or whether it will
then replace Series 2.
Instructions for tuning in to Granada on Sky:
Granada is available on Astra 2 (Sky): 10758MHz, Vertical, 22000SR, 5/6FEC.
See:
www.lyngsat.com/28east.html
for more information.