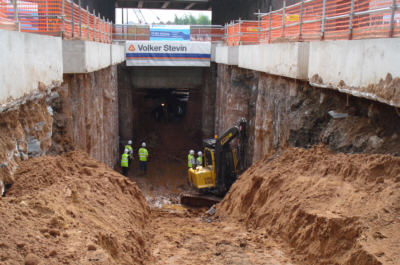 A "breakthrough" was celebrated today on the
Manchester Bolton and Bury Canal
.
British Waterways engineers, construction workers from Volker Stevin and members of the
Manchester Bolton and Bury Canal Society
were on hand to witness the breaking through of the new Margaret Fletcher Tunnel in Salford.
The new tunnel beneath the Inner Relief Road and Manchester to Liverpool railway is named after Margaret Fletcher, the late chairman of the Canal Society, who successfully secured funding for its design and construction. The tunnel will emerge into a new deep lock replacing the original staircase locks leading from the River Irwell.
Two lines of concrete piles were sunk into the ground before construction of the relief road started. The sandstone rock between the piles was then excavated from beneath the finished roadway to form the tunnel.
The canal through the tunnel could be open to navigation later in 2008. It will lead to the restored Lock 3 and a stretch of canal as far as Oldfield Road. The canal will become the centrepiece of the Middlewood Locks development.
More photos of the work will appear on Pennine Waterways in the next few days. Please check back.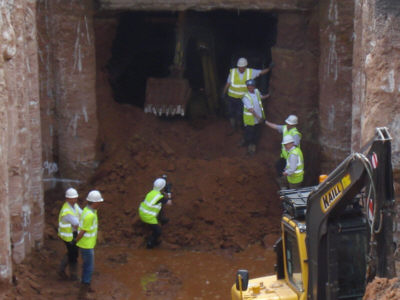 The excavator has broken through and construction workers from each side of the tunnel meet with a traditional hand shake!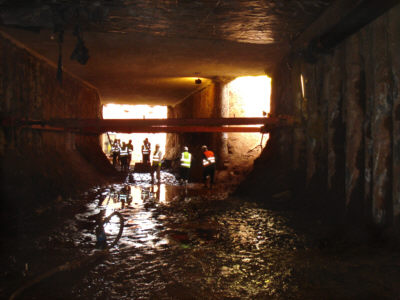 Inside the new tunnel, looking towards the deep lock. There will be a landing on the right, with steps leading up to the lock side.