This news item should have been reporting a stoppage on the Huddersfield Narrow Canal. Earlier today CRT issued a stoppage notice today for Lock 13w of the Huddersfield Canal in Mossley, as the top gate was "inoperable" (it wouldn't close). It was believed that the post had lifted out of its pot. A stoppage notice saying that the lock will be shut until Tuesday when further investigations would take place.
The crews of the eight boats from Cheshire Cruising Club that were waiting just below the lock were not happy about that and decided to investigate the problem (as they had nothing else to do).
Exploration with a long pole revealed that a plastic barrier was on the bottom, with the gate riding over it so far and then being unable to close. The boaters managed to pull the barrier out of the water and close the gate.
The eight boats have now successfully passed through the lock and are at Roaches Lock for the night.
The lock still requires some investigation by CRT, as there is some resistance for the last few inches when opening or closing the gate, and water spurting up under the gate suggests that there may be debris preventing a good seal between the gate and the cill, but the gate is at least operable at present.
Cheshire Cruising Club informed CRT that the lock is now passable.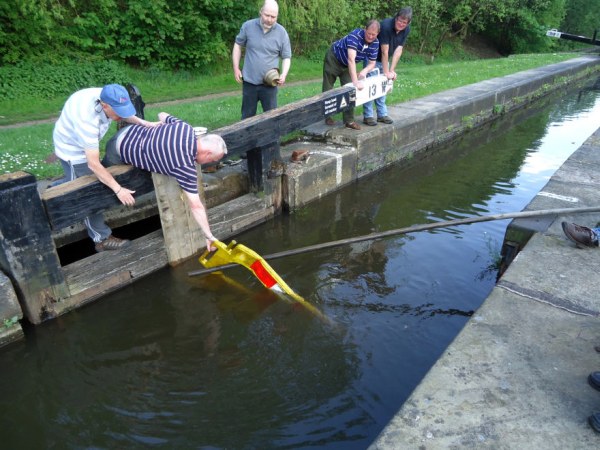 Boater power at Lock 13w