The Canal and River Trust is inviting people to express their views about their proposal to erect a fence along the offside of historic Marple Aqueduct on the Peak Forest Canal.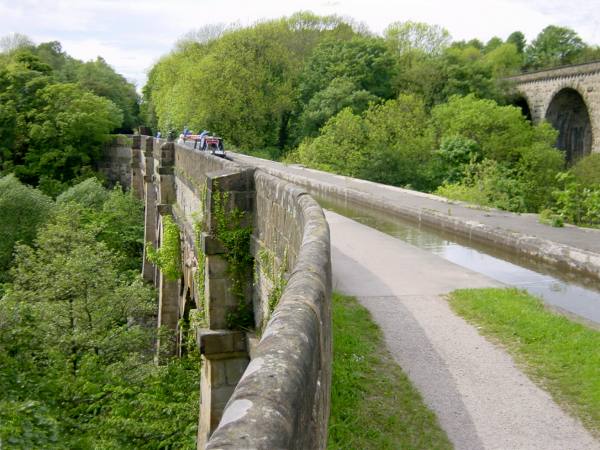 Marple Aqueduct showing the unfenced off-side
Following the work carried out recently by the Canal and River Trust to improve the experience for visitors to Marple Aqueduct, including cutting back trees to enable a clear view of the structure from the side, a increase in the number of visitors is now expected.
A safety review of the Aqueduct has concluded that additional measures are required to reduce risk to visitors, including a parapet fence on the off-side of the structure (opposite the towpath side). Boaters are at present able to get off onto the unprotected 'off-side', while some people are understood to have jumped across the canal channel as a dare.
The Trust is looking for feedback on the safety fencing proposals. Comments can be made by email to
aqueduct.fence@canalrivertrust.org.uk
The consultation period will be open until
January 31st
2015.
An artist's drawing of what the fence is expected to look like can be seen here:
Artist's impression of proposed safety fence
A similar fence exists at the smaller Paddock Aqueduct in Huddersfield:
Paddock Aqueduct, Huddersfield Narrow Canal
The Trust say that the safety fence will be to be part of a wider programme of improvements including vegetation clearance to reveal the sweep of the Aqueduct, gateway markers, suitable safety signage and improved green space at the entry points to the Aqueduct, creating a sense of arrival at the Grade 1 Listed structure and Scheduled Ancient Monument.
It is not known how many people have fallen from the aqueduct since its opening 215 years ago. Perhaps a local historian can help with that one. The proposal also raises the question of whether such safety measures can be expected to appear on other structures such as the aqueducts at Chirk and Pontcysyllte.
Read about this consultation here:
https://canalrivertrust.org.uk/about-us/consultations/current-consultations
and, if you have views, please make them known using the email link above.