Part of a mill wall has collapsed onto the Rochdale Canal between Locks 76 and 77, in Miles Platting, following a fire.
This has resulted in an emergency stoppage to both the navigation and towpath. BW will not be able to assess the extent of the damage until the fire is fully extinguished.
This is on the stretch of 19 locks along which passage must be pre-booked, so the canal will be closed between Locks 65 and 83. Boaters wishing to use the canal should moor at the Irk Aqueduct or Ducie Street until the canal is re-opened.
Any enquiries regarding this stoppage should be made to BW on 01942 405700.
This stoppage causes a potential problem to boaters wishing to cross the Pennines, as the Huddersfield Narrow Canal is closed between Stalithwaite and Huddersfield.
Update 19th Oct:
The
navigation has re-opened
but the towpath remains closed between Locks 76 and 77.
BW will issue a further update on Monday 26th October.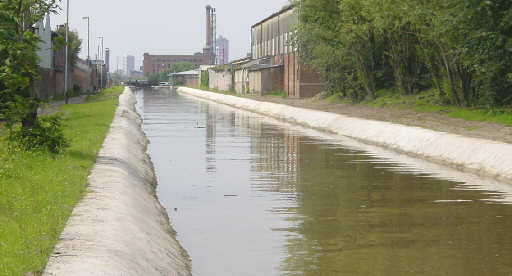 Between Locks 76 and 77, Rochdale Canal