Standedge Tunnel and Visitor Centre have got off to a snowy start to the 2013 season! The official first day of operation on Saturday 23rd March had to be called off when deep snowdrifts blocked roads in the area. This included the cancellation of the first public trip of the year right through the tunnel. The hardy staff opened the site the following day but with no vehicular access! Things gradually improved through the week, with short boat trips running for the brave souls who managed to reach Tunnel End on foot.
By the time Good Friday arrived, the sun was out at Standedge and the snow was going. This was good, as it was the first day of the Easter Trail. This will be available until 14th April at a cost of £1.
Hopefully the snow will be long gone in time for the Family Fun Day which takes place on Sunday 14th April, which will include a petting zoo, bouncy castle and kids' craft activities.
The photograph of Standedge Visitor Centre was taken during the week by Jill Whitehead, who was on board a train which paused long enough for her to capture this shot of the snowy scene.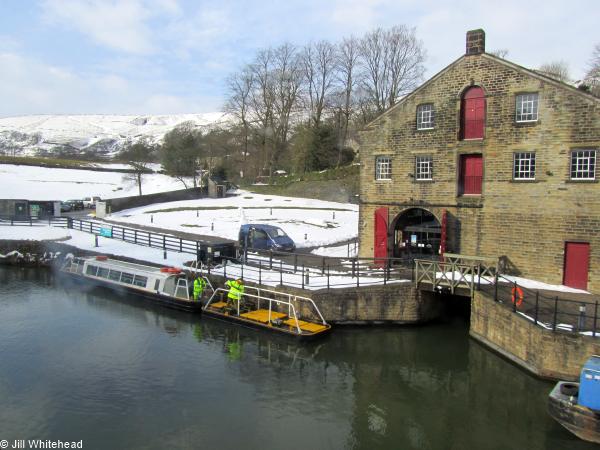 Standedge Visitor Centre seen from the train.