Passage through Standedge Tunnel was temporarily suspended after a safety alert this week.
On Wednesday while one of the normal chaperone-assisted passages was taking place, it was noticed that one of Network Rail's timber overhead walkways that cross the tunnel had partially collapsed and that large timbers were suspended dangerously over the water. As a result the Canal and River Trust had to close the tunnel to navigation.
Network Rail sent a maintenance crew to begin removing the dangerous timbers. That work is underway and was expected to be complete by Thursday night.
If all has gone well tunnel passages should be resumed as normal on Friday (28th August).
The original railway tunnels were built alongside the south side of the canal tunnel. The later twin track rail tunnel was built on the north side of the canal, linked at intervals with the original tunnels by means of passages. Some of these cross the canal tunnel on wooden walkways and it is one of these that became unsafe.
It is understood that it was necessary to take the boat back out of the tunnel the way it had come. It was expected that the boat would be allowed through the tunnel as soon as Network Rail had made the walkway safe.
Update

Friday 28th August:
The repair has been completed and the tunnel has re-opened to normal operation.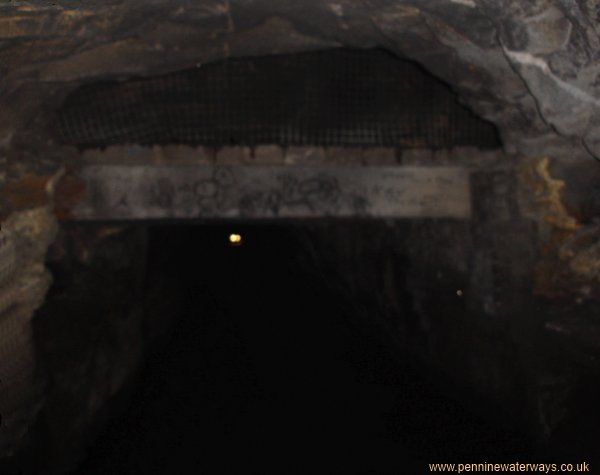 One of the overhead walkways crossing Standedge Tunnel.