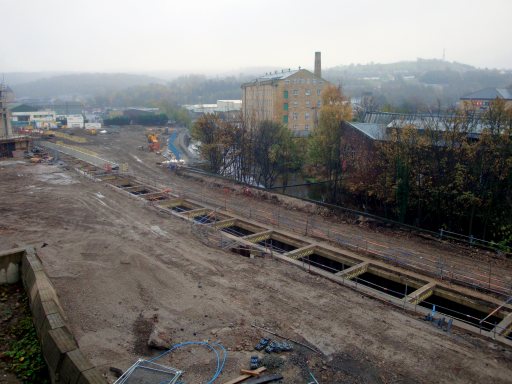 Former Sellers Engineering site looking east towards Chapel Hill
The photos in this article show the current situation at the former Sellers Engineering site where the tunnel beneath the site is being opened out and the Huddersfield Narrow Canal being brought back up to the surface as part of the Huddersfield Waterfront development.
Click on each photo to see a larger version of the image. Click on your browser's Back button to return to this page.
All the concrete tunnel roof sections have now been removed. The concrete struts will remain in place until the tunnel has been partly filled to bring the level up ten feet to the new canal bed level.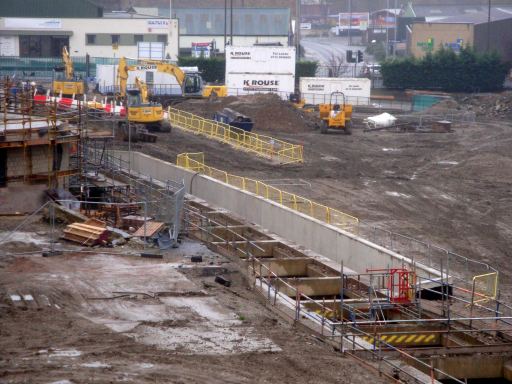 Wider section of canal under construction
The canal will run through most of the site using the tunnel's current profile, meaning the channel will only be around 3 metres wide. Towards the eastern part of the site a wider section is being constructed which will allow boats to moor and to pass. A new lock will be constructed just beyond this wider section to take the canal down to the level that ran through the tunnel.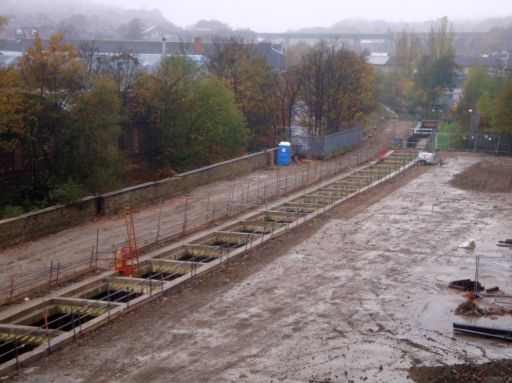 Former Sellers Engineering site looking west towards Longroyd Bridge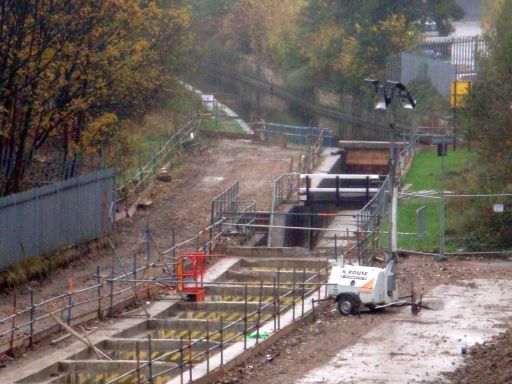 Lock 3w - the gates and paddles have now been removed.
The lock shown in the photo will be partly filled to bring the bottom up to the level of the canal bed above the lock. Boats will pass straight through the lock to reach the new channel, with a new lock replacing this one to be built at the other end of the development.
When the development is complete, walkers will be able to follow a path alongside the canal right through to Chapel Hill.
Please see the October report
for more background information about this project.
Please feel free to click below and add a comment.