A stoppage has been announced on the Leeds and Liverpool Canal in Wigan.
The pound between Locks 86 (Henhurst Lock) and 87 (Bottom Lock) has de-watered overnight. This affects the canal between the junction with the Leigh Branch and Wigan Pier.
BW is investigating the cause and running water down to re-fill the pound, which is not currently navigable.
This is the stretch of water outside the windows of BW's North West offices!
Update, 22nd November, 8.30 am:
BW has discovered that there is damage to one of the wooden cills at Lock 87 that helps make the gates watertight. BW staff are carrying out repairs. The navigation
remains closed
.
Update, 28nd November, 10.30 am:
Cill repairs are now complete and this part of the canal has now been
re-opened to navigation
.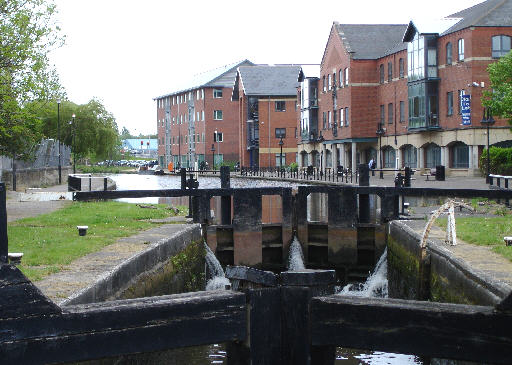 Looking from Lock 87 towards Lock 86 in Wigan.