There is good news for those who are interested in older boats as work on the restoration of the historic wooden narrowboat
Hazel
moves to the re-planking stage.
In July,
Hazel
was winched from the water onto the bank at the WCBS boatyard on the bank of the Huddersfield Narrow Canal in Stalybridge, where the rebuilding work is taking place.
All the old timbers were removed. New base timbers were laid and the ribs attached. Work has now started on re-planking the boat's sides. A traditional boiler and steamer box has been built to enable the new side planks to be curved to shape. The planks are softened by steam in the steamer box so that they can be shaped to fit the curves of the hull sides.
(Click photos for larger versions. Press Back button to return here.)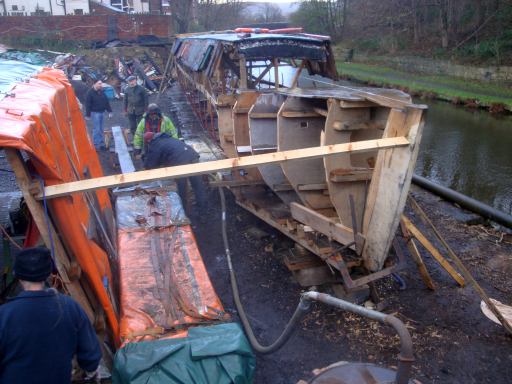 Hazel
at the WCBS boatyard in Stalybridge. The steamer box is in the foreground, with one of the planks sticking out at the far side.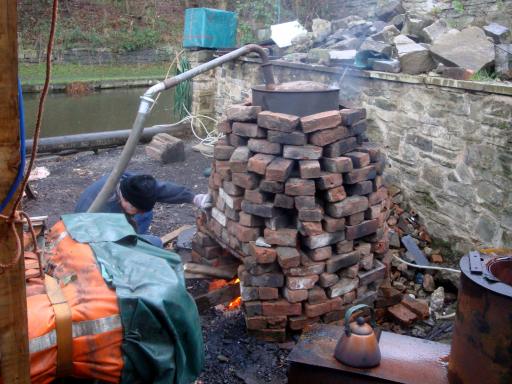 A traditional steaming boiler has been set up to create the steam.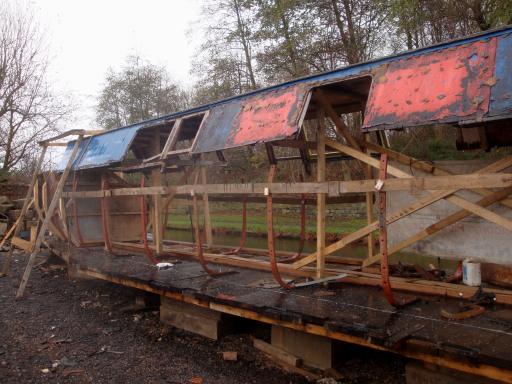 The iron ribs have been attached to the new wooden base. The cabin is supported in place above.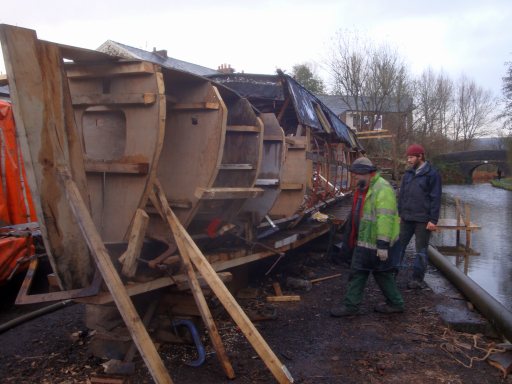 The first steamed plank has been curved into shape and attached to the side of
Hazel
.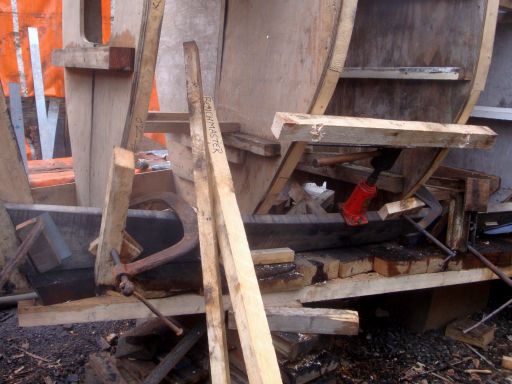 This photo shows how the plank is not only curved, but has to have a twist to make it fit the boat's shape. It is held in position with numerous clamps until it is no longer flexible.
Launched in 1914 as
Mull
, this horse-drawn wooden narrow boat was based at Northwich and carried up to 30 tons of coal or salt. She was renamed
Hazel
in 1939 following a change of ownership. She became a pleasure boat and in 1951 had an engine and full-length cabin fitted. In recent years
Hazel
has been in the care of the Wooden Canal Boat Society and has been on display at Portland Basin on the Ashton Canal. More information about the work on
Hazel
and other wooden boats can be found on the
WCBS web site
.