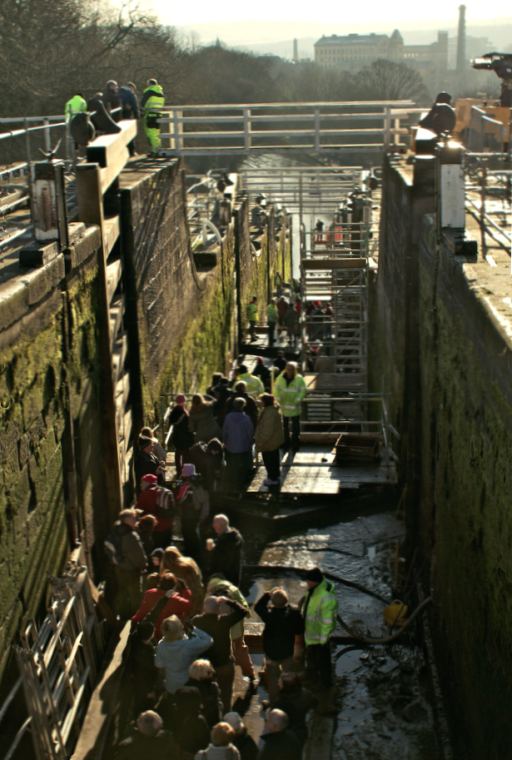 Open Day at Bingley. Photo: Richard Robson
British Waterways have had a successful open weekend at Bingley Five Rise Locks yesterday and today.
The event at the iconic lock staircase has captured the public's imagination, with good publicity in the press and on television pulling the crowds in. BW says that 7,276 people have passed through the locks over the weekend.
The lock gates are replaced every 25 years, so BW took advantage of the gate replacement taking place in the same year as BW transforms into the Canal & River Trust charity to involve local people in gaining a greater understanding of the canal feature on their doorstep.
The gates each weigh around 3.8 tonnes before the balance beams and paddle gear are added. Four of the six pairs of gates are being replaced this winter, so the staircase has been completely drained. (The other gates were replaced in 2000 and 2006.) Apart from holding the open event, BW is also taking the opportunity of the flight being drained to clear out rubbish and carry out repairs to the ground paddles and the lock chambers.
The entire operation, including making the gates, the erection of scaffolding and hire of cranes, is costing around £300,000.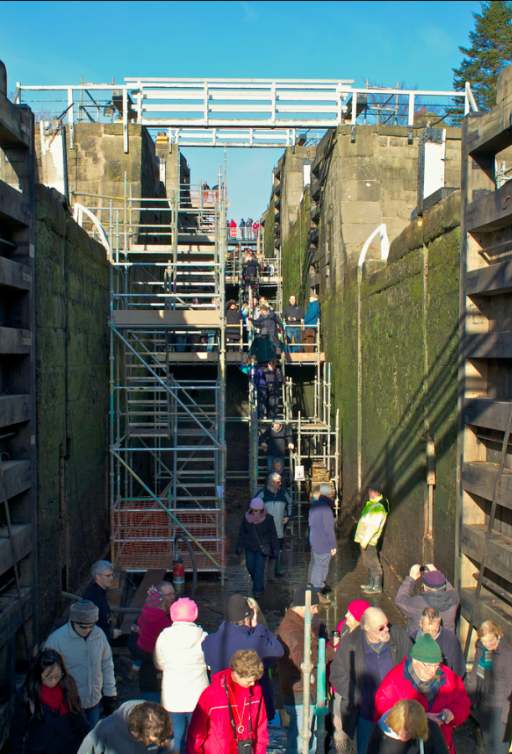 Open Day at Bingley. Photo: Richard Robson
These photographs of the open event at Bingley were taken by Richard Robson and appear with his kind permission. You can see more of his photos of Bingley Five Rise
here on his Flickr pages
.
If you missed the television coverage of the event, you can see watch short BBC videos
on this page
.
By contrast, last week's open day at Marsden was a lower-key event.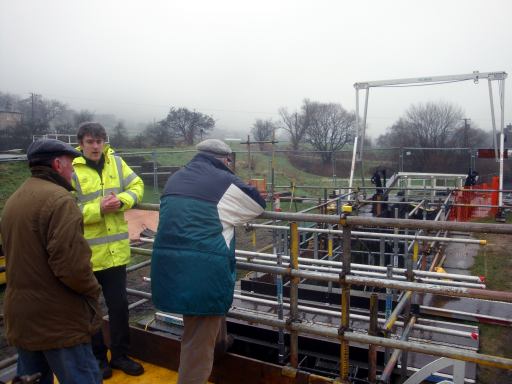 Open Day at Marsden
Work on Lock 40e, the planned location, had not started so the event was moved to Lock 32e. This involved a walk down the very scenic but muddy towpath, meaning that the flow of visitors could better be described as a trickle. British Waterways staff were on hand to talk with visitors and explain the work involved in re-furbishing the locks.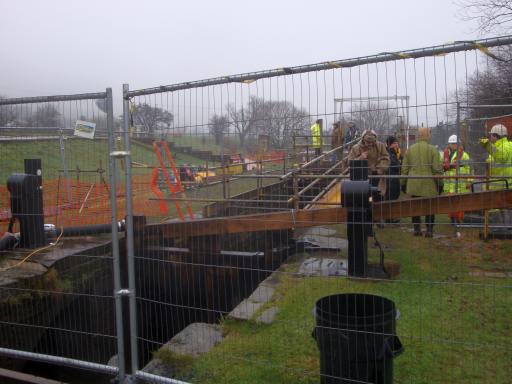 Open Day at Marsden
There will be further BW open days at Stanley Ferry Workshop (11th February) and Lock 31w at Diggle (20th February).
More information here
.