A breach has closed the Trent and Mersey Canal between Preston Brook Tunnel and Barnton Tunnel. Although this is just outside the area covered by Pennine Waterways website it could affect some boaters currently on the Bridgewater Canal or in the Manchester area.
The breach is understood to be a short distance south of Dutton Lock. The Canal and River Trust have issued a stoppage notice in which they describe the event as "erosion" rather than a breach!
A video of the scene of the breach
has been posted here on YouTube
by
Little Leigh Village website
. Facebook users can see photos on
Little Leigh Village's Facebook page
.
A shorter video clip can be seen
here on YouTube
.
The breach will affect boaters navigating the Cheshire Ring. The alternative route is through Manchester and via the Ashton, Peak Forest and Macclesfield Canals. Any boaters stuck north of the breach who genuinely need to leave their boat somewhere should contact
Claymoore Boats
at Preston Brook, who may be able to offer you a haven. If you are north of the breach on a hire boat based south of the breach it is likely that your hire company will arrange for you to take your boat to Claymoore Boats.
The photo below comes from the
Little Leigh Village's Facebook page
. [
Little Leigh Village website
]
Update

Wednesday 26th September:
The Trent and Mersey Canal has now been closed to navigation between Preston Brook Runnel and Middlewich Big Lock. The Canal and River Trust says that the canal has suffered a breach at Dutton Hollow, near Preston Brook and also that significant damage has been done to a supporting embankment at Croxton Flash near Middlewich.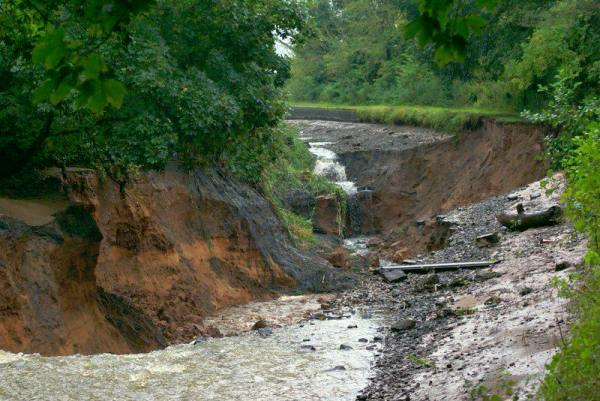 Breach on Trent and Mersey. Photo:
Little Leigh Village's Facebook page