January 23rd 2009 updated 26th Jan
British Waterways has announced an emergency stoppage affecting boaters using the Calder & Hebble Navigation and Huddersfield Broad Canal.
Flood damage to Cooper Bridge Weir is causing low levels between Kirklees Low Lock and Cooper Bridge Lock, along with the approach to the Huddersfield Broad Canal entrance lock.
On Friday afternoon (23rd Jan), water levels were 400mm below normal water levels, but as flood waters recede, the levels could be expected to drop further.
Update, 26th Jan: Water levels now 1.1 metres below normal water levels, making navigation impossible.
British Waterways has put an emergency stoppage in place whilst engineers consider options for repair.
Repairs cannot be carried out until after the flood water recedes. BW will issue a further update on Monday 2nd February.
This follows a similar failure last October at Ledgard Weir, 1.5 miles downstream. On that occasion, the navigation was closed for several days and then boaters were allowed to pass with care until repairs were complete.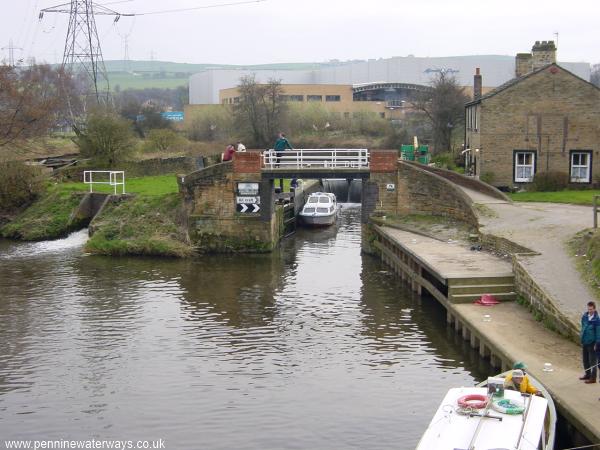 The entrance to the Hudderfield Broad Canal - this may now be too shallow to navigate. Cooper Bridge Weir is immediately downstream to the left.