As work on the Liverpool Canal Link nears completion, water has been let into the new channel through Trafalgar Dock.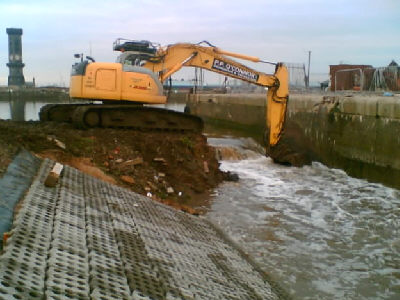 The new channel links Stanley, Collingwood and Salisbury Docks to the north with West Waterloo and Princes Docks to the South. This forms the northern section of the Liverpool Canal Link but, unlike the southern section through Princes Dock and the Pier Head, this channel runs through the old dock area still used for commercial purposes, which is not open to the public, so there will be no route for pedestrians alongside the channel.
Trafalgar Dock had been infilled except for a narrow channel along the eastern edge to maintain the water level in Waterloo and Princes Docks. This channel has been widened to navigable width, utilising the old dock wall on one side and a sloping bank constructed on the other side, lined with a mesh that will enable vegetation to grow. A new concrete-sided channel was constructed to link through to West Waterloo Dock. [
see photos
]
Construction of this channel was completed just before Christmas and on Christmas Eve a New Holland 235 excavator from plant contractors P P O'Connor moved in to remove the clay bund that held back the dock water.
After a period of testing, the
Liverpool Canal Link
should open for navigation around Easter, enabling canal boats to travel from the Leeds and Liverpool Canal through to Albert Dock and the southern docks.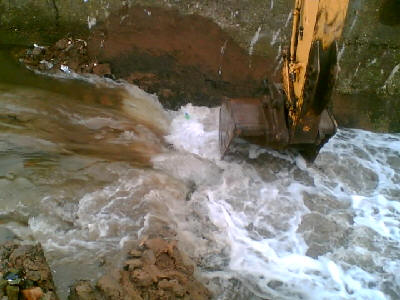 The photos with this report were taken by Charlie Edge and appear with permission of P P O'Connor Ltd.
See photos of the Liverpool Canal Link route in Oct 2008
.