Liverpool's new Canal Link was the centre of attention at the closing event of Liverpool's Year of Culture!
Around sixty thousand people crowded onto the Pier Head area on each side of the new canal channel to witness the closing spectacular on 10th January. This featured fireworks, music, dance, illuminated lanterns on the canal and special lighting of The Three Graces. A film of the highlights of the year was shown on giant screens to the accompaniment of a sound track of well-known Liverpool songs.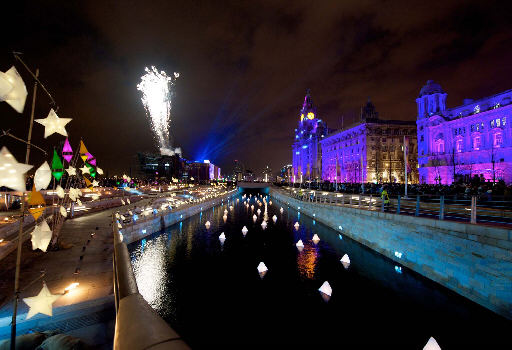 The Liverpool Canal Link at Pier Head was at the heart of the closing festival.
Photo: Christian Smith Photography Ltd
At one time it had been hoped that the Canal Link could have been completely open in time for the Year of Culture but it was good that the section through the Pier Head was opened in time to play a leading part at the end of the year of events.
Debbie Lumb of British Waterways said: "We were thrilled to see the new canal link feature at the heart of the closing ceremony of the Capital of Culture year. With the opening of the canal link in Spring 2009 the waterfront will be animated with boaters from all over the country visiting Liverpool to see for themselves the transformation of the waterfront and the city."
Liverpool Council Leader Councillor Warren Bradleysaid: "2008 was a life-changing year for this city and we wanted to say thank-you for everyone who helped play their part. And what better way than with a party at the waterfront, where so much of this city's story began?''
Phil Redmond of Liverpool Culture Company said: ''It is a testimony to the people of Liverpool that so many came out in freezing weather. This celebration was not a finale - it simply marks a new beginning for Liverpool.''