A boat has sunk in Lock 1w of the Huddersfield Narrow Canal in Ashton under Lyne. This has created a stoppage that could last a couple of days.
As this is the bottom lock of the canal, the pound below cannot be drained, so BW will need to put stop planks below the lock in order to pump put the water from the lock and from the boat so that it can be re-floated.
It was reported that BW staff need to cut some planks to size in order to do this. The draining may take place tomorrow if everything is ready. Waiting boaters have been warned they could be there for two days although BW have given no official indication of how long the stoppage will last.
Boaters intending to pass through this lock should wait at Portland Basin or in Stalybridge until the lock has re-opened.
Update 13th April:
The boat has been re-floated and the lock is now open to navigation.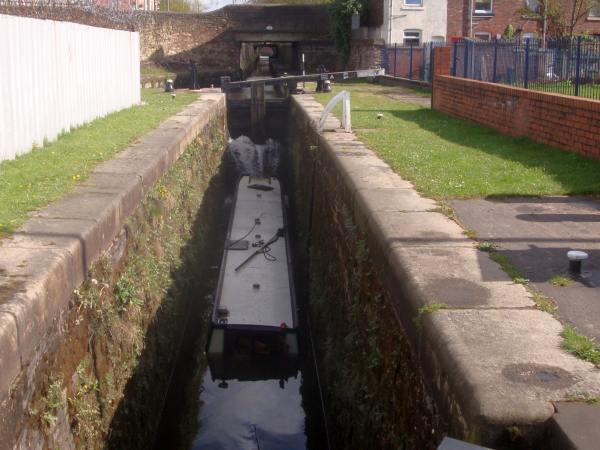 The boat on the bottom in Lock 1w.
It was reported that the boat was being towed by another one, and had been bow-hauled into the lock. The boat is at the back of the lock and it would appear to have become hung up on the cill as the lock emptied.
The paddles on the tail gates are hydraulically operated from a remote location at the back of the lockside. This makes it slow to drop the paddles in an emergency. Local boaters have complained of the danger of hydraulic paddles in cases like this.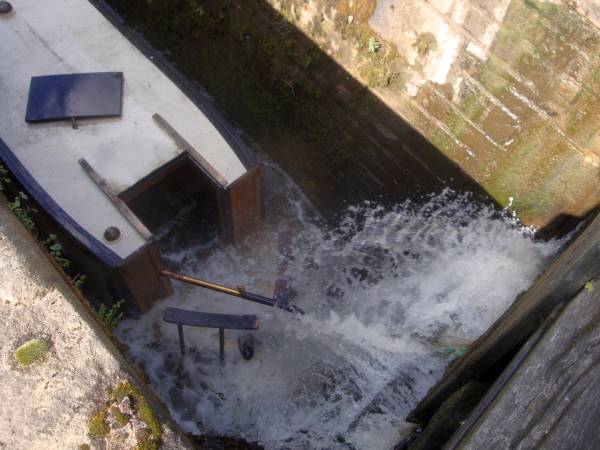 Leaky top gate continues to flood boat's counter.