The
Upper Peak Forest Canal
is currently closed about a mile south of Marple Top Lock. This is because a number of trees have been blown down across the canal near
Bridge 21
, Rawten Walls Bridge, also known as Plucks Bridge.
BW have said that an update will be issued on Monday 30th April.
With very high winds across the area for most of the day, it is likely that there will be other tree blockages elsewhere.
Update 29th April:
Fallen trees are also blocking the
Lower Peak Forest Canal
on the Romiley side of
Hyde Bank Tunnel
and between Bridge 3,
Dukinfield
and Bridge 4, Newton Hall, near where trees fell at the start of the month.
Update 30th April:
In addition to the fallen trees mentioned above, BW say there is also a tree blocking the Peak Forest Canal at
Bridge 38
between Bridgemont and Bugsworth. BW reports that there are 7 trees down near Bridge 21, just south of Marple.
BW say they are endeavouring to remove the trees as soon as possible and a further update will be issued on Tuesday 1st May.
Update 1st May:
BW say that the trees should be removed by the end of
2nd May
.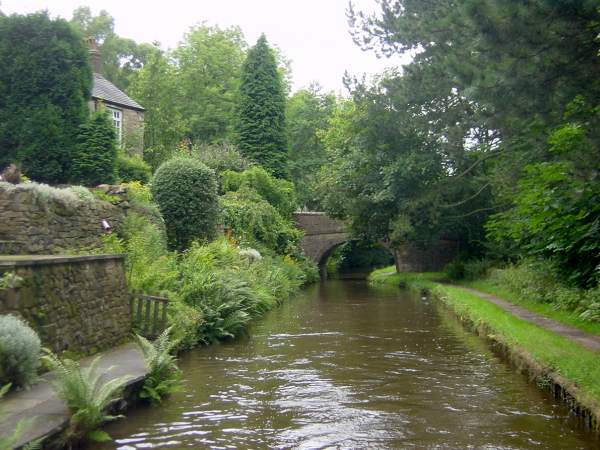 Peak Forest Canal at Rawton Walls Bridge