The Huddersfield Narrow Canal is currently closed at Lock 1w at Whitelands in Ashton under Lyne following a hydraulic gate paddle failure.
The gate paddles on this lock are hydraulically operated from remote winding gear, as seen in the photo. BW says that repairs will be carried out tomorrow morning (Thursday).
An update will be issued on Thursday 10th May.
Boaters intending to use this lock should moor in Stalybridge or at Portland Basin until the lock has re-opened.
Important Update, 10th May:
BW staff have found that the problem with the lock seems to be due to damage to the lock chamber floor and lower cill. The stoppage has had to be extended. The works are expected to be completed on
Tuesday 15th May
. Watch for further update. Westbound boats should not proceed beyond
Stalybridge
until the lock is re-opened.
Further Important Update, 15th May:
BW reports that investigations yesterday and today have revealed significant damage to the heel posts of the gates of Lock 1w. Because of extensive cracking in the heel posts, it is not possible to fill the lock enough to let boats through the upper gate. (The water leaks out at the bottom faster than it comes in at the top.)
BW say that the gates need to be removed in order to carry out the repairs. The work has started and it is hoped that the lock will be re-opened on
the evening of Wednesday 23rd May
. BW will give a further update on
Monday 21st May
.
Update, 23rd May, 4.30 pm:
The work at Lock 1w has been completed and the navigation has now re-opened.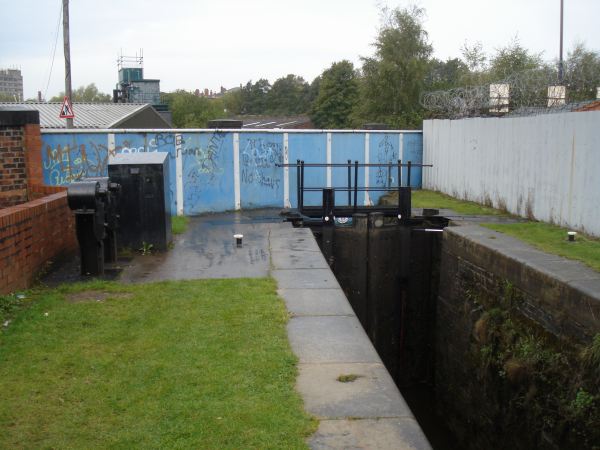 Lock 1w,Huddersfield Narrow Canal