Boaters will be pleased to hear that Tesco and British Waterways have come to an agreement over the long-running problem of trolleys in the canal in Stalybridge.
Rubbish in the canal, particularly trolleys, has been seen to be a deterrent to boaters using the waterway. This is depriving the town from enjoying more visits by boats with the consequent loss of trade, and the town being less attractive to visitors. The "Stalybridge Town Team" sees attracting boaters and visitors to the Huddersfield Narrow Canal as a crucial part of its plans.
In the past three years more than 200 trolleys have been retrieved from this stretch of the canal, taking British Waterways resources away from other projects. Even fitting trolleys with devices so that the wheels lock if they are pushed over a line has failed to solve the problem.
Working in partnership with Tesco, British Waterways have now agreed to make regular visits to the stretch of the canal to keep it clear of trolleys and other debris – with the clean-up costs being met by Tesco!
BW's David Baldacchino said: "Litter is a huge problem for the waterways, especially when people are using the canal as a dumping ground for litter and - at this particular location - shopping trolleys. 
"We have been working closely with Tesco to try and reach a solution to this on-going problem which is spoiling the environment and causing damage to boats. I am pleased that we have agreed to carry out regular clean-ups with the help of Tesco.
"The new Canal & River Trust will be calling on the help and support of the local community in Stalybridge to get involved with their local waterway by volunteering and helping care for their canal."
Anna Wisnoiwski, manager of Tesco Stalybridge, said: "We work hard to ensure that our trolleys are collected and secured every night. We are always looking for new ways to prevent trolleys being stolen and we're grateful to customers who make us aware of abandoned trolleys, as it enables us to collect them quickly. We are pleased to join British Waterways in this new initiative to help keep Stalybridge canal clean and safe for everyone to enjoy."
Jonathan Reynolds, MP for Stalybridge and Hyde, welcomed the agreement, saying: "Given its picturesque location next to the Huddersfield Narrow Canal, Stalybridge should be attractive to tourists and to shoppers, as well as being an ideal place to spend a day out. But far from being an attraction, debris in the canal can make it an eyesore and discarded shopping trolleys can make it hazardous for boaters.
"I have been talking to Tesco and British Waterways about this issue for a number of weeks and I am delighted that they are now taking such an active role to clear up the canal.
"Taking action to ensure the water is clear of debris will help to make it a much more attractive destination for boaters, as well as those looking for a stroll along the towpath.
"Supermarkets are clearly not responsible for the anti-social behaviour of those who think it is acceptable to dump litter and trolleys in this way. But the canal-side location of this particular store makes it a particular problem in Stalybridge, so I am pleased that British Waterways and Tesco are taking this pro-active approach."
There have been many reports of boats becoming stuck on trolleys in this area. It was recently learnt that one boater could not get past the trolley reef and turned back. The canal through Stalybridge has a concrete bottom. A boat cannot push trolleys into the mud, as can happen at other locations, and so, depending on the draught of the boat, a trolley here can be an impassible obstacle.
We look forward to hearing of similar agreements being made with other stores elsewhere!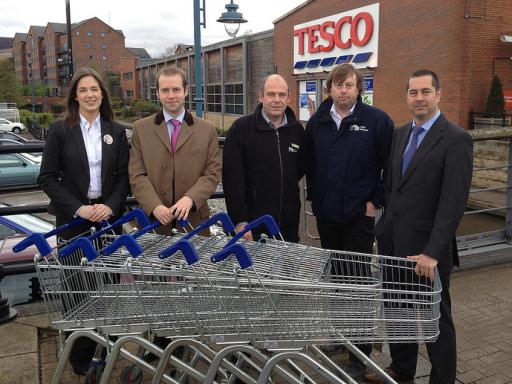 With trolleys on the footbridge across the canal include, from left, Tesco's Anna Wisnoiwski, local MP Jonathan Reynolds and BW's David Baldacchino.
Photo: Jason Prince