A half-day stoppage will affect all locks in Wigan tomorrow morning.
The entire Wigan flight, from Lock 65 to Lock 88 on the main line, along with the two Poolstock locks on the Leigh Branch, will be
closed
from midnight tonight
until 12.00 noon tomorrow
, 15th May.
This is because BW is installing and commissioning a new SCADA (Supervisory Control And Data Acquisition) device above Lock 88 and it is necessary to make careful measurements of the water flow when there are no boat movements. The SCADA device will enable BW to monitor water flows and help to reduce problems with water levels.
During the period of closure, padlocks will be placed on Locks 88, 87, 86, 85, 65 and lock 1 of the Leigh Branch to prevent operation. BW has asked that any boats moored between these locations remain berthed during the period.
Additional stoppage: Burnley
On Wednesday 16th May, the Leeds and Liverpool Canal will be closed (towpath and navigation) between Bridge 129B and Bridge 130E, where it passes through the Weavers Triangle area of Burnley. The closure will be between 7.00 am and 1.00 pm and is at the request of the Police to allow a visit by the Queen and Prince Phillip to the Weavers Triangle.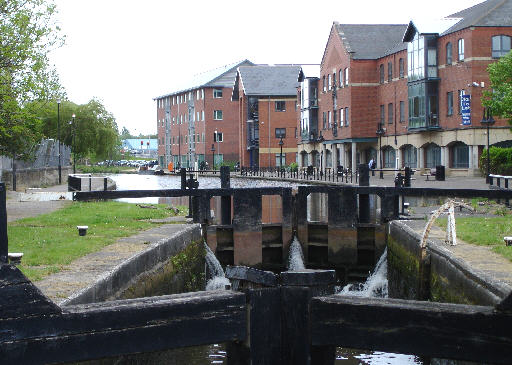 Lock 87, Wigan