The narrowboat that has been blocking the Rochdale Canal since last Friday was re-floated in the early hours of this morning.
As river levels rose rapidly last Friday evening and engulfed the canal between Todmorden and Hebden Bridge, the unoccupied narrowboat was pulled from its moorings and carried downstream, where it was swept onto an overflow weir. When the waters receded, the boat was left with its bow on the weir and its stern on the opposite bank. (
See earlier article for photo
.)
As there was no access to land beside the canal, the boat had to be lifted by a 300-tonne crane positioned on Burnley Road, on the other side of trees and the River Calder. The large crane was needed because of the long reach involved. The operation necessitated a road closure, which was why it took place in the early hours of the morning.
The boat was lifted from its position and re-floated and was moved down into Hebden Bridge.
As the section of canal between Locks 11 and 17 were the worst affected by the floods, the lock landings have been found to be unsafe to use, as access to them is blocked by silt and debris washed down the canal. Boaters will not be able to pass through this section until BW had set up a system of assisted passage.
The towpath is also closed over much of this section, with some parts having been washed away by the fast-moving flood water.
A short video of the boat being lifted can be seen
here on the BBC News web site
.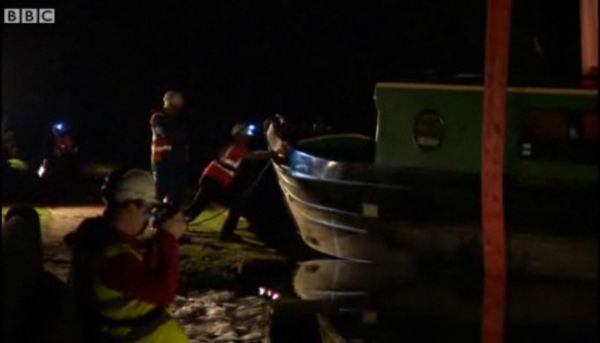 Photo:
BBC News