The Rochdale Canal is to re-open throughout its length tomorrow for the first time since it was hit by floods a week ago.
As reported earlier, a stranded narrowboat that had been blocking the canal has been removed. This means that boats are now once again able to travel between Hebden Bridge and Todmorden.
However, because of the dangerous condition of the towpath and lock landings at
Lock 12 and 13
, west of Hebden Bridge, these locks will be operated by BW staff
between 12.00 noon and 2.00 pm
each day (7 days a week). Outside of these opening hours, these two locks will be
padlocked
so that they cannot be used.
The floods have eroded the towpath in this area and a lot of soil and stones have been deposited in the canal making it unsafe to attempt to get on or off a boat on the lock landings. The towpath is also not in a fit state for boat crews to walk between locks.
BW say that it is not safe for customers to try to use these locks without assistance in their current condition, which is the reason for them being locked when not manned.
BW also warn boaters to proceed with caution between Locks 11 and 19 as there may be unexpected obstacles below the water that have been washed into the canal. They ask anyone finding such an obstacle to tell them about it.
BW also warns that sections of the towpath are closed, being badly eroded or covered in slippery silt. Walkers are asked to avoid sections blocked off with orange fencing.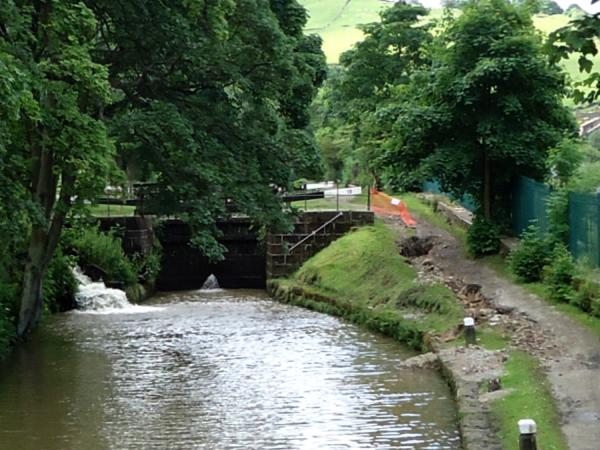 Lock 13 showing towpath erosion and material deposited in canal.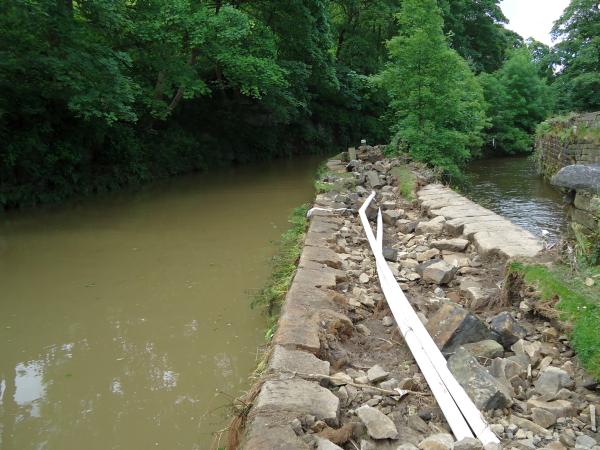 Towpath and wall washed away below Lock 12.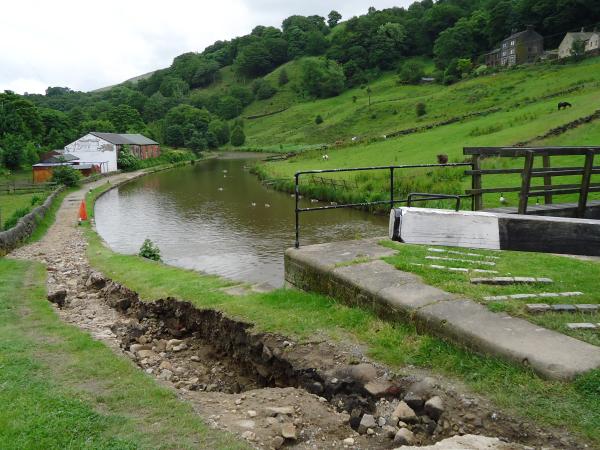 Towpath erosion at Lock 16.
BW say there is still a huge amount of work to be done to get the canal back to normal and that they will work towards that over the coming weeks. BW say they would like to thank customers for their patience while they have been working on the problems caused by the flooding.
See also:
Rochdale Canal remains blocked after floods
.
Stranded boat re-floated
.