It was reported here
last Friday
that the Rochdale Nine locks through Central Manchester were closed following an incident with a boat. [See original article.]
The lock flight remains closed today and it would appear that repair work has not yet been carried out. The photo shows water gushing up from under the towpath side head gate. This is because the gate has been lifted out of the pot that enables it to pivot and rotate. Not only does this make the gate difficult to operate, but the lack of a seal prevents the lock from being emptied. (The lock is three quarters full in spite of one of the tail gate paddles being completely raised.)
The Canal and River Trust have investigated the situation and found that the gate has sustained damage which requires the gate to be lifted out and repaired. This will involves the use of scaffolding and a temporary road closure to facilitate the use of a crane. The Canal and River Trust hopes to have the work completed by the end of Friday 27th July.
One report suggests that the bow of a boat became stuck under the beam as the lock was filling and lifted the gate. Another report suggests that a boater was using the boat to open the gate, although it is difficult to see how that could lift the gate.
The Rochdale Nine forms part of the busy Cheshire Ring route and the stoppage at the height of summer has caused disruption to boaters' plans and to boat hire companies, whose customers doing the Cheshire Ring have had to be turned around to retrace their steps.
Enquiries about this stoppage should be made to the Canal and River Trust on 01782 785703.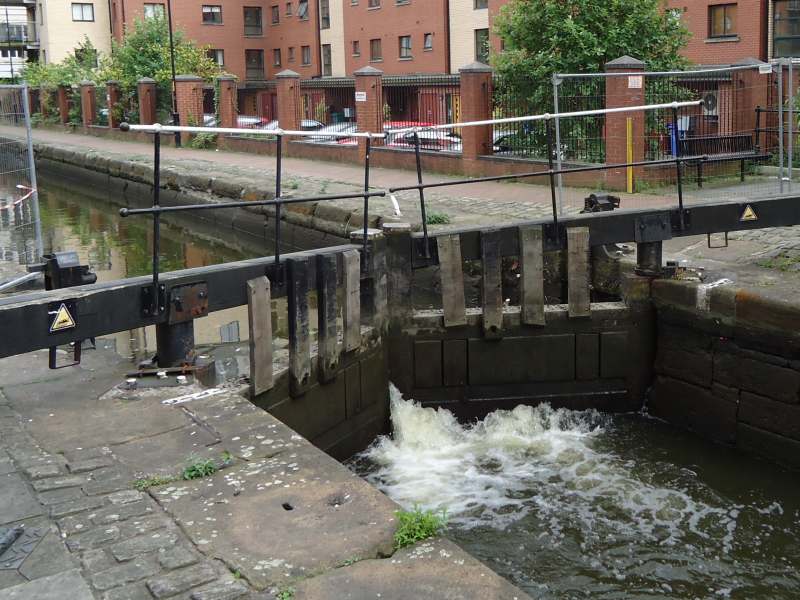 Lock 89, Rochdale Canal