The eastern side of the Huddersfield Narrow Canal is currently blocked by silt and debris following heavy rainfall in the area this week.
The affected section is the pound between Locks 14e and 15e, between Linthwaite and Slaithwaite. This is in a location where a stream flows into the canal from the steep hillside and boaters have for years been experiencing difficulty getting over the silt that has built up. British Waterways, aware of this problem, had been working on a scheme to address this but a schedule for the work had not as yet been arranged.
It is not known at this stage whether the Canal and River Trust will bring forward the proposed dredging work now that the issue has become an emergency.
The Canal and River Trust say that they will issue an update as soon as more is known and have asked boaters with particular concerns, such as those with boats over 60 ft trapped to the east of the blockage, to contact them on 0303 040 4040.
Update Friday 13th July:
The Canal and River Trust say they are continuing to review and investigate the work needed to clear the channel in this area. They say it is already clear that the work required is likely to be extensive. Their contractor is being engaged with a view to them starting work next week.
As yet no end date can be given for the work but the current estimate is that this is likely to be
at least 2 weeks
.
Boaters with bookings for Standedge Tunnel between now and 6th August will be contacted by the Canal and River Trust to update them of the situation. No new bookings are being taken for the period up to to 30th July. Any bookings taken for after that date will be subject to short notice cancellation.
Update Tuesday 17th July:
The contractor will begin work on Monday 23rd July. The silt will be cleared and stored so that cannot re-enter the canal. It will then be removed from the area completely later in the year.
The Canal and River Trust plan for the channel to be re-opened by the end of
Friday 27th July
although if it can be re-opened sooner an update to that effect will be issued.
Update Tuesday 24th July:
A navigable channel has now been cleared and boats have been allowed past the affected area. Boaters are advised to proceed slowly past the work. The contractors expect to have completed the work by the end of Thursday, with some 80 tonnes of silt having been removed.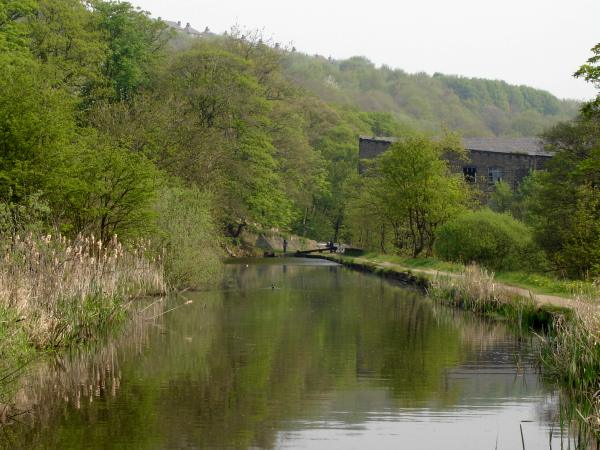 Pound above Lock 14e.