The Littleborough lock flight on the Rochdale Canal is currently closed after a boat hit and damaged the head gate cill at Lock 41 at Sladen.
The canal will be closed between locks 36 and 44 until repairs have been carried out.
The River and Canal Trust has been investigating today and will issue an update as soon as they know more.
Mooring upstream is possible below lock 34, with winding possible between lock 33 & 34.
Mooring downstream is possible below lock 48, with winding possible between lock 45 & 46.
Update

Friday 26th July:
Until the lock can be properly repaired, the Canal and River Trust will be providing assisted passage through lock 41
between 10.00 am and 2.00 pm
in conjunction with the opening times of the Summit.
Note:
Boaters should be aware that, when closed, a lock gate butts up to a wooden cill (or threshold) that forms a water-tight seal against the gate. These wooden cills are usually slightly higher than the adjacent canal bed. Attempting to enter or leave a lock when water levels are too low can result in the boat's skeg catching the cill and damaging it, or even ripping it out of place. This will mean a water-tight seal cannot be made, making it difficult (or impossible) to completely empty or fill the lock. Boaters should not attempt to force a boat over a cill but should ensure that the water level is increased before proceeding. If necessary the Canal and River Trust should be called out to assist.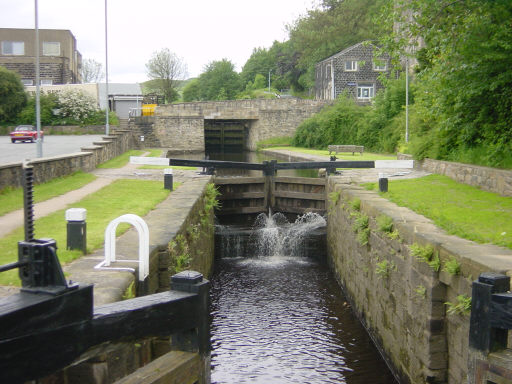 Lock 41, Rochdale Canal