Boaters on the Leeds and Liverpool Canal could face delays if they are heading through Blackburn.
A problem has been identified with the tailgate cill at Lock 55, the fourth lock down the flight of six, and the locks are currently closed.
Canal and River Trust staff have been de-watering part of the lock flight so that they can investigate the problem. Sometimes cills are damaged by boats trying to get across them when water levels are too low.
The Canal and River Trust will issue an update tomorrow, 29th August.
Boaters approaching from the west may wish to moor up before reaching the Blackburn area, such as at Riley Green or around Millfield Bridge 92. Boaters approaching from the east may wish to moor at Eanam Wharf, after Bridge 103a, or around Side Beet Bridge 106.
Update

Thursday 29th August:
The problem has been investigated and it has been found that the wooden cill and the concrete base have suffered significant damage. The materials and plant required are being ordered and arrangements for access being made. Once everything is in place the repair should take about
one week
. There will be a further update on Monday 2nd September.
Update

Thursday 5th September:
The concrete work has now been completed and will need three days to set. There will be a further update on Friday 6th September.
Update

Friday 6th September:
It is expected that the canal can be re-opened to navigation through Blackburn Locks on the afternoon of Sunday 8th September.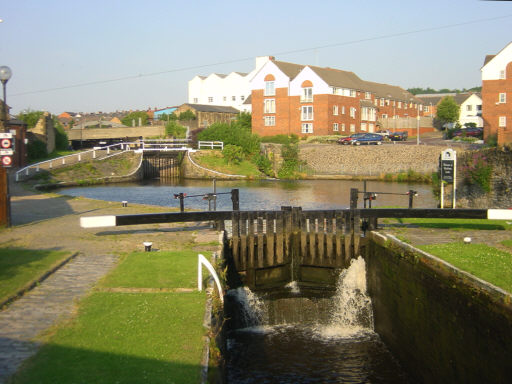 Lock 55 in the background. Leeds and Liverpool Canal, Blackburn.