As
reported here
a few days ago, there was an unfortunate incident on Sunday in which a narrowboat sunk at Lock 9w on the Huddersfield Narrow Canal.
The photograph below was taken by local boater Peter Killan and shows that the boat was travelling uphill and was exiting the lock at the time of the incident. The short pound above the lock was low (which is fairly common) and the boat grounded on the head gate cill. It is reported that water was leaking out of the tail end of the lock and that the water level in the lock went down quickly. Before the boater, who is reported to have been single-handing, was able to remedy the situation, the stern of the boat had sunk below the water.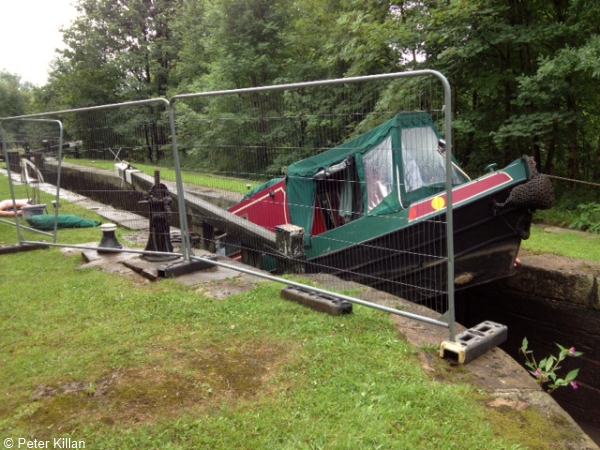 This week's sinking at Lock 9w. Photo: Peter Killan
There is a remarkable similarity to an incident which happened in the same lock two years ago in which a boat entering the lock became stuck on the cill and sunk as water levels dropped quickly.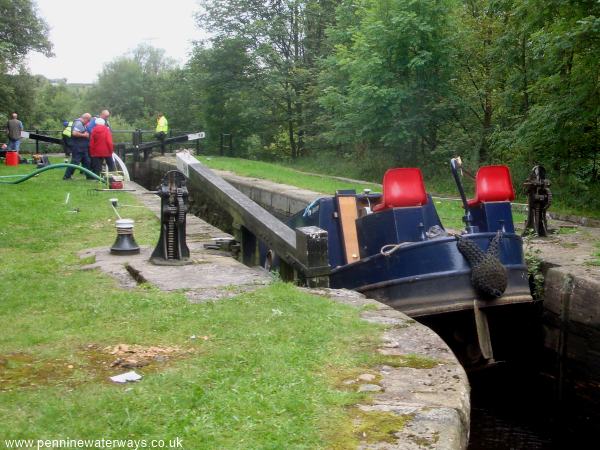 The 2011 sinking at Lock 9w.
These incidents are worrying for boaters as something similar could happen to anyone. They are not, as many sinkings appear to be, the result of carelessness or inattention. Many boaters will wonder whether they could have done anything differently. Once the head gate is open, leaks at the tail of the lock mean the water level in the lock chamber and the short pound above may fall rapidly. Water can be run down from Lock 10w but the hydraulic paddles are fitted with anti-vandal locks and cannot be opened rapidly in an emergency.
Many boaters will be wondering what the Canal and River Trust has done to address the issues at this lock since the 2011 incident.
Boaters ascending Lock 9w would be well advised, if they see that the pound above the lock looks low (which is likely if they have just filled the lock), to run some water down from Lock 10w before attempting to exit Lock 9w. Boaters descending from Lock 10w should be prepared to run extra water down if the pound below looks low and should not attempt to enter the lock if levels are low.
(Running additional water down should be done with care, so as not to flood the towpath below or drain the pound above.)
More photos of the 2011 incident, including pictures of the recovery,
can be seen here
.