The Leeds and Liverpool Canal has been closed at Rishton, between Blackburn and Burnley.
The Canal and River Trust were alerted to a towpath collapse on the edge of Rishton, not far from the aqueduct across the M65 motorway. Investigation found that there is significant leakage though the culvert running below the canal at this point, which has resulted in the towpath collapse.
Canal and River Trust staff remain on site and are investigating the matter further. The towpath has been closed with fencing and the navigation is also closed so that the affected section can be de-watered and the situation reviewed.
An update will be issued tomorrow (12th September).
Winding is possible next to the M65 Aqueduct (108aa) or to the west of Side Beet Bridge (106).
Update

Thursday 12th September:
The Canal and River Trust are warning that
this stoppage may last for quite a long time
.
C&RT staff worked overnight constructing dams and are now de-watering the area. The towpath has been fenced off and a lengthy diversion signposted.
C&RT engineers are on site investigating the issues and they expect that an in-depth investigation and programme of repair will be required over the next few weeks.
A further update will be issued on
10th October
2013.
Go to
this page to see updates
.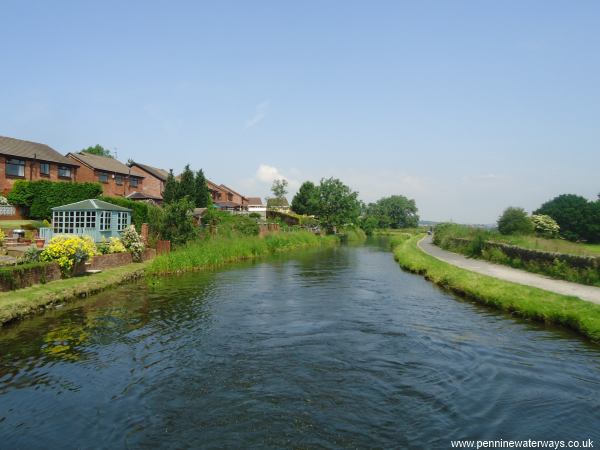 Leeds and Liverpool Canal near the location of the collapse in Rishton