Boaters intending to use the "Rochdale Nine" flight of locks through Manchester should be aware that the locks will be closed tomorrow, Thursday 19th September, in order to remove debris at Lock 87 at the lower end of Canal Street.
Rubbish has built up behind both tail gates at lock 87 so that they will not open fully into the recesses. This is causing navigation problems for wider boats. The water level in the lock and the pound below will be significantly lowered to clear behind the gates.
The towpath will also be closed between lock 87 (Princess Street) and lock 88 (Oxford Street), please follow alternative route along Whitworth Street.
Boaters waiting to use the locks should moor below lock 92 at Castlefield Basin or above lock 84 at Piccadilly Basin.
This stoppage will affect boaters navigating the Cheshire Ring.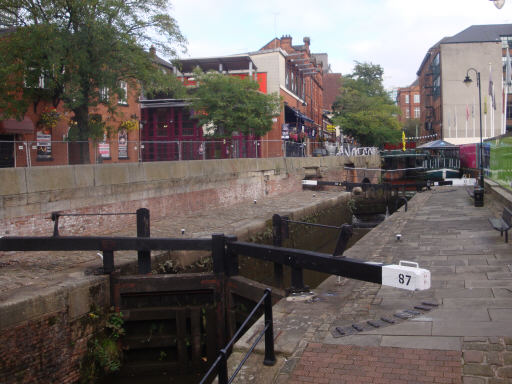 Lock 87, Rochdale Canal